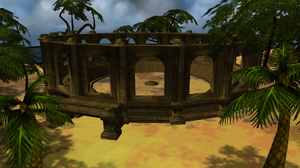 Isle of Heroes is one of the several locations in Sherwood Dungeon. This area contains a Colosseum where you can summon Arena Lions or the Arena Dragon.
Players can also summon Agony by speaking to the Darkblood Paladin near the stone circle located at the back, left, side of the colosseum. It should be noted that defeating Agony is a requirement for players following the Prophecy of Bane questline.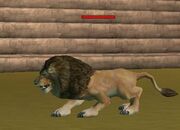 Before the Prophecy of Bane update, the Arena Master provided players the option to summon two teams of colored Soldier NPCs who would be hostile towards any mobs or players not wearing the same color armor as they were. Currently, the other team has been replaced by a group of Lions.
Soldiers would also spawn outside of the colosseum, but were replaced by Darkblood Valkyries.