News and Updates
January 31/February 16, 2021
An update is made to the mobile version of Sherwood, containing "Bug fixes and OS updates". No further details were given.
January 12, 2021
Adobe Flash Player is officially disabled in all modern browsers. Regarding this, Gene made an undated developer diary entry. A new button, "Sherwood Dungeon Classic", is added to the login screen, to enable access to the Clan Room design tools. Thus, the name "Sherwood Classic" is now applied to the last Flash version of Sherwood that included these tools, and not the very early Shockwave version, that consisted of only one island and one avatar.
October 27, 2020
A post is made on the official Facebook page about the 16th anniversary of Sherwood, which took place in October.
July 27, 2020
An update is released for the mobile app. Its content is summarized as "Bug fixes, optimization and 64 bit support".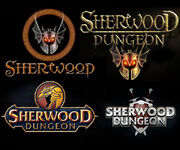 Feed
Helping out
Not sure where to start?
Adding content
Talk and more...
Check out the community portal to see what the community is working on, to give feedback or just to say hi.